The Fragile Yam: Nepali 'Stateness' And The Renegotiation Of Gendered Citizenship
Seira Tamang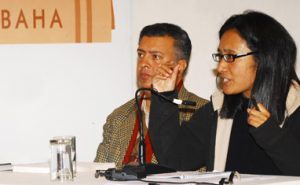 Seira Tamang
on
The Fragile Yam: Nepali 'Stateness' and the Renegotiation of Gendered Citizenship
'Adequate stateness' and the 'sovereignty' of Nepal has been of much concern for Nepali state elites throughout history. The proverbial 'Nepal is a yam between two boulders' reflects these concerns as does the continuing stress on Nepal's non-colonialised, bir (brave) history. The easy discourse of masculinised independence has always been threatened by the country's geo-political situation, reliance on foreign aid for survival, and the periodic labelling of 'Nepal in crisis'. The latter had recently become highlighted again within the context of the Maoist war, international concerns of Nepal's potential to be a 'failed state', and Nepal's current portrayal as a 'fragile state'.
The lecture will seek to lay out the manner in which state elites negotiated the new labels, with special attention to the period in which the triangular conflict between the then-active monarchy, the then-mainstream political parties and the CPN (Maoist), was at its height (2002-2006). This includes an analysis of failed-state/failing-state categories as used in Nepal, and the manner in which gendered discourses were employed and the relationship of state/subject/citizen and the new labeling of state inadequacy was simultaneously negotiated nationally and internationally.
* * *
Listen to or download lecture in audio format
Seira Tamang holds a PhD in International Relations and has research interests encompassing gender, global political economy, and citizenship. She is the author of several articles published in various journals including Citizenship Studies and Feminist Review, as well as in edited volumes. Having held post-doctoral research positions in the US and in Japan, Dr Tamang is currently chairperson of the research and policy institute, Martin Chautari, in Kathmandu.