Nepal Diary: Reflections And Impressions
Rachel Stevens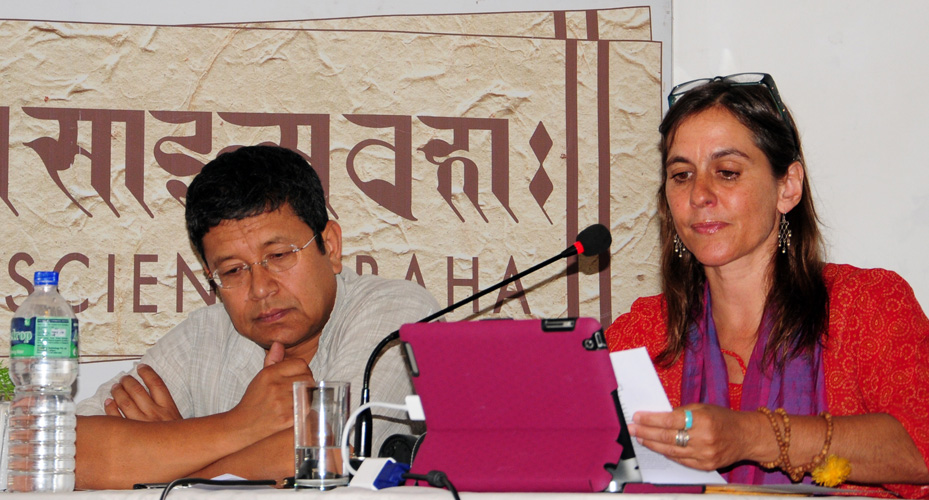 Rachel Stevens
on
Nepal Diary: Reflections and Impressions
Rachel Stevens came to Nepal in 2006 under the auspices of the Fulbright program. As she explored the Kathmandu Valley, Prof. Stevens was inspired by the interplay between syncretic spiritual practices and adrenalin-fueled modernity. She envisioned a pair of projects that reflected these impressions and these were completed through a dynamic collaboration with the artisans of Sulav Studios of Patan. She maintained a written account of her artistic process during the course of her stay in Patan – 'Nepal Diary'. The backdrop of her story took place during a time of tremendous social change in the country. She will read and recount events that forged a lasting bond with Nepal.
* * *
Listen to or download lecture in audio format
Rachel Stevens is Professor of Sculpture at New Mexico State University where she has taught since 1994. She received her BFA from the Maryland Institute College of Art and her MFA from Syracuse University. She exhibits her sculpture nationally and is represented by Zane Bennett Gallery in Santa Fe, New Mexico. Her work is aesthetically experimental and manifests as single objects or complex installations. Through her art she seeks a deeper, more intuitive understanding of the world. She has received numerous grants and awards, including a Pollock-Krasner Foundation grant.
Her passion for art has continued to inspire travels to many countries around the world, including a Fulbright to Nepal. While in Nepal, she studied ancient copper casting techniques practiced by Newar Buddhist icon-makers and sojourned to sites that are sacred to Buddhist and Hindu pilgrims. These experiences culminated in the creation of two contemporary installations that conceptually and aesthetically blend elements of East and West.
She remains active with the Fulbright program and served as a Program Reviewer from 2007-09. Appointed a Fulbright Ambassador in 2010, she promotes the Fulbright program to university communities and artist residencies across the United States.