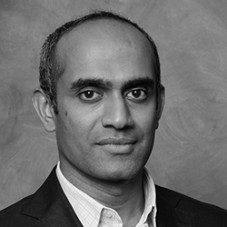 George Varughese
George Varughese is Senior Strategic Advisor for Niti Foundation and convenes its Strategic Advisory Group that makes broadly available analysis, guidance, and recommendations for implementing federalism in Nepal. Dr Varughese has 25 years of experience in international development and academia with expertise in thought leadership/facilitation in governance, a political economy and conflict specialisation, and skills in strategic analysis and advice, fundraising, programme design and delivery, and policy development and navigation.
Most recently, Dr Varughese represented The Asia Foundation in Nepal (2000-5, 2009-18) and Afghanistan (2005-9), managing programmes on transitional political processes and constitutional development, capacity-building initiatives in the centre of government, subnational governance, conflict-transformation and peace-building, women's advancement and security, and public education and discourse on democratic political processes and rule of law.
Dr Varughese was Country Programme Development Advisor for the United Nations Development Programme in Nepal until 2000 and was Country Research Coordinator for Madagascar and Nepal at the Ostrom Workshop in Political Theory and Policy Analysis, Indiana University until 1998.
Dr Varughese is interested and involved in the institutional design of partnerships between local communities, private sector, and government officials, particularly on post-conflict development management, peace-building, local governance, and civic engagement. In addition to Afghanistan and Nepal, he has provided technical expertise in Myanmar, Sri Lanka, and Timor Leste on these subjects.
Dr Varughese is an Associate of the Centre for Deliberative Democracy and Global Governance at the Institute for Governance and Policy Analysis, University of Canberra, and was 2015-16 Excellence Chair and Professor in Global and Area Studies at the University of Wyoming, 2010 Senior Visiting Fellow of The Australian National University's Asia-Pacific College of Diplomacy, and 2008 Senior International Fellow of the City University of New York's Graduate Center for Philanthropy and Civil Society.
Most recently, he delivered the 2017 Howard Baker Distinguished Lecture in International Security and Development at the University of Tennessee and published 'Development Aid Architecture and the Conditions for Peacebuilding and Human Rights in Conflict-Affected Areas: Does the Framework Fit the Purpose?', with Mie Roesdahl in The Oxford Journal of Human Rights Practice (Special Issue on Human Rights and Peacebuilding, 2017, pp. 1-12).  Dr Varughese holds a Joint PhD in Political Science and Public Administration from Indiana University, Bloomington.
He can be contacted at george.varughese@nitifoundation.org.